David Gaston, Hewlett Packard Enterprise (HPE)
Josh Davis, InfoSystems
This episode of the podcast, Business and Technology in Tennessee, produced by InfoSystems, was recorded at the Chattanooga Public Library following the April 2018 CHATECH Connect Lunch program. Josh Davis and David Gaston took some time to discuss the partnership between InfoSystems and HPE as well as HPE's recent announcements about the increased security of their Gen10 servers.
David was able to share some great executive-level insights from HPE about the market trends and customer scenarios that have driven their immense focus on server security. Their research confirmed that the greatest vulnerabilities in current server technology resided in the firmware layer. Firmware is made up of over a million lines of code that boots up first -- before the processor and operating system. Firmware can be attacked through the supply chain of components manufactured for servers and many other ways, but has been severely neglected when it comes to security advancements.
Listen to the full episode to hear David's thoughts about major hacks and security breaches from the last few years and what can be done to prevent them moving forward.
Don't forget to SUBSCRIBE to our podcast on your favorite platform using the links below.
No time now?
SUBSCRIBE to listen later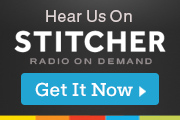 Just Ask Amazon Alexa - "Listen to the podcast Business and Technology in Tennessee on TuneIn"