Carla Askonas, Chattanooga Technology Council (CHATECH)
David Gaston, Hewlett Packard Enterprise (HPE)
Josh Davis, InfoSystems
This episode of the podcast, Business and Technology in Tennessee, produced by InfoSystems, was recorded at the Chattanooga Public Library following the April 2018 CHATECH Connect Lunch program. Josh Davis, Carla Askonas, and David Gaston took some time to discuss the ways in which CHATECH connects with technology vendors, IT service providers, and local businesses to drive economic growth in the Chattanooga region.
Carla speaks passionately about her role as a nonprofit leader and the strategies and tactics CHATECH uses to accomplish its mission.
She covers the role of the CHATECH Connect events in providing an educational vehicle that allows local IT leaders from corporate members to share best practices on various topics such as Cloud, Cyber Security, and Business Intelligence, typically in the form of a panel discussion. CHATECH Information Security Forums are closed-door meetings that provide a "think-tank" environment for IT executives from qualifying corporate members.
Carla also discusses the focus CHATECH is placing on workforce development through the advancement of programs that create opportunities for locals to build careers in technology. CHATECH has been working on engaging students by building partnerships with local colleges, establishing internship opportunities, and offering scholarships for programs that will build high-value skills. Some of the focus has also been on educating young people on the potential that various technical skills will add to a career track.
Other CHATECH programs and events, including an annual golf tournament and annual CxO Auction, provide fun ways for members to network and build relationships. CHATECH also works with the Chattanooga Chamber and other organizations to share success stories about local technology companies with a broader audience.
Links:
Full recording of CHATECH April 2018 Connect Lunch
No time now?
SUBSCRIBE to listen later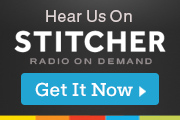 Just Ask Amazon Alexa - "Listen to the podcast Business and Technology in Tennessee on TuneIn"